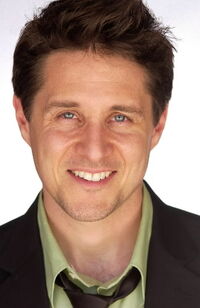 Yuri Lowenthal (born 5 March 1971) is an American voice actor, originating from Alliance, Ohio, in the United States.
He has lent his voice for video games such as Afro Samurai, Ben 10: Alien Force, BioShock 2, and Fallout: New Vegas. He has also done voice work for anime series, including Afro Samurai, DearS, Naruto, Code Geass, and Mega Man Star Force. Along with these roles he also voiced the Prince in three of Ubisoft's Prince of Persia games - The Sands of Time, The Two Thrones and The Forgotten Sands.
In the Assassin's Creed series, he provided the voice of Vieri de' Pazzi in Assassin's Creed II.
Assassin's Creed works
Assassin's Creed II (2009) - Vieri de' Pazzi
External link