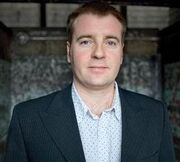 Yannis Mallat is the Chief Executive Officer (CEO) of Ubisoft Montreal and has been one of the executive producers behind the Assassin's Creed franchise since its inception.
Biography
Edit
After graduating with honors from the French Secondary School in Abidjan (Ivory Coast), Mallat spent three years in West Africa providing humanitarian aid to developing countries. He also earned a Master's Degree in International Agronomy & Economic Development in Paris; after this, Mallat returned to Africa, where he worked with an NGO to set up rural development projects.
Following this, he then moved to Canada, where Mallat received an MBA from the Ecole des Hautes Etudes Commerciales in Montreal, Canada. He returned to his first passion – videogaming – when he joined Ubisoft's Montreal development studio in January 2000.
His primary titles include Prince of Persia: Warrior Within, Prince of Persia: The Sands of Time, and Rayman Advance. He has also worked on production for Little Nicky, The Emperor's New Groove, and Dinosaur.
Game credits
Edit
Because of Mallat's extensive work in the gaming industry and the numerous titles for Ubisoft being too long to list, it can be seen here.
External links
Edit
Ad blocker interference detected!
Wikia is a free-to-use site that makes money from advertising. We have a modified experience for viewers using ad blockers

Wikia is not accessible if you've made further modifications. Remove the custom ad blocker rule(s) and the page will load as expected.