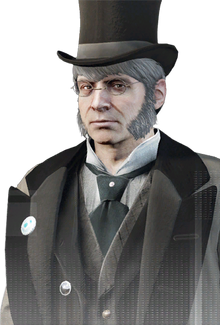 Professor Wilson was a British citizen who lived and worked in London during the mid-nineteenth century.
Wilson was a professor at a small London university, where he worked with professors Byng and Silas, as well as their assistant Virginia. In 1868, he was working on a thesis on the Arachnid Harpadectus, a rare, venomous spider only found in the Bolivian Andes. When he received a crate containing a living specimen, it somehow managed to escape.
While Wilson initially suspected Virginia from handling the crate carelessly, the Assassins Jacob and Evie Frye later discovered that Professor Silas had sent the spider to Professor Byng in an elaborate plan to make it look like Byng had died, which would allow Silas to steal the body and perform an ancient ritual, which involved eating the victim's brain, to gain his knowledge.
Reference
Ad blocker interference detected!
Wikia is a free-to-use site that makes money from advertising. We have a modified experience for viewers using ad blockers

Wikia is not accessible if you've made further modifications. Remove the custom ad blocker rule(s) and the page will load as expected.