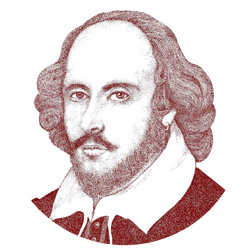 William Shakespeare (26 April 1564 (baptised) – 23 April 1616) was an English poet, playwright, and actor, widely regarded as the greatest writer in the English language and the world's pre-eminent dramatist. He is often called England's national poet, and the "Bard of Avon".
During his lifetime, Shakespeare wrote 38 plays and 154 sonnets.[1] Among his plays, he wrote The Merchant of Venice[2] and A Midsummer Night's Dream.[3] The former featured a Jewish villain, partially inspired by the execution of Roderigo Lopez, the Jewish chief physician of Queen Elizabeth I, who was hanged, drawn, and quartered in 1594 for attempting to poison the Queen.[2]
In addition to his plays and sonnets, Shakespeare also contributed hundreds of new words into the English language.[1]
Trivia
References