Speak sense, Templar, or not at all!


This article, or article section, is non-canon. Although created by Ubisoft or their affiliates, the information that follows is not considered a part of the Assassin's Creed timeline.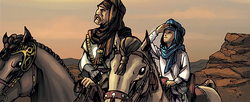 William Miles was a member of the Assassin Order and the father of Desmond Miles.
William lived with his family in a desert community, sometimes taking his son on trips through the barren wasteland surrounding their home. During one such trip, when they were watching an eagle in flight, William warned his son to always be careful of the "vultures", referring to the Templar Order.
See also
Reference
Ad blocker interference detected!
Wikia is a free-to-use site that makes money from advertising. We have a modified experience for viewers using ad blockers

Wikia is not accessible if you've made further modifications. Remove the custom ad blocker rule(s) and the page will load as expected.