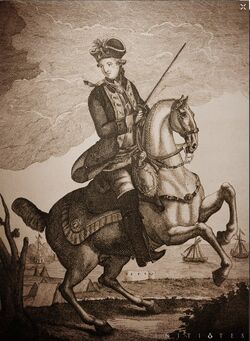 William Howe, 5th Viscount Howe (10 August 1729 – 12 July 1814) was a British Army officer and the Commander-in-Chief of the British forces during the American Revolutionary War.
Biography
General Howe planned to attack Dorchester Heights in Massachusetts in 1776 after the Siege of Boston. Continental Army Colonel Henry Knox brought heavy artillery from Fort Ticonderoga to Dorchester Heights with aid from the Assassins, and under discreet pressure of the Assassins, Howe lifted his plan to continue the attack.
In September 1776, British forces under General Howe took to slandering the Patriot forces after they suffered a series of defeats. Ratonhnhaké:ton sent a group of Assassins to make the colonials aware of the mockery, boosting their morale and resulting in a Continental Army victory at the Battle of Harlem Heights.
On 4 October 1777, General George Washington led an attack on Howe's forces at Germantown, with protection from the Assassins. Howe was nearly defeated, but Hessian forces managed to claim victory for the British.
Later that year, Howe suspected that the New Hampshire statesman Woodbury Langdon was loyal to the Patriot cause, and had Langdon confined to New York when he arrived there from London. With help from the Assassins, Langdon managed to escape back to New Hampshire.
Howe resigned from the campaign by June 1778.
Appearance
Reference