Ad blocker interference detected!
Wikia is a free-to-use site that makes money from advertising. We have a modified experience for viewers using ad blockers

Wikia is not accessible if you've made further modifications. Remove the custom ad blocker rule(s) and the page will load as expected.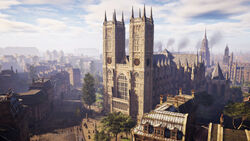 Westminster Abbey is a large church located west of the Palace of Westminster, in Westminster, London. It is the traditional home of coronations for monarchs of the United Kingdom, as well as burials and Royal weddings.
In 1661, during the coronation of King Charles II, he noticed his general George Monck speaking with a man holding an Apple of Eden, but had to bow his head to receive his crown from the Archbishop William Juxon before he could look further.
Charles Darwin was also honoured with a burial here, as were former Prime Minister William Gladstone and his wife.
In 1868, the Abbey was targeted for destruction by Harrison Harley, a Blighter. Before he could enact this plan, however, he was kidnapped by Jacob or Evie Frye and delivered into police custody, thereby saving the ancient church from destruction.
Reference
Edit