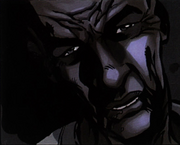 Weke (unknown – 259) was the servant of Lucius, and was aware of the Assassin affiliation that his master and his master's son, Aquilus, shared.
In 259, Caius Fulvus Vultur, secretly a Templar, visited his old friend Lucius in Lugdunum, but only with the purpose of retrieving the Ankh which had not long been brought there; Vultur killed Lucius and took the Ankh while Aquilus was interrogating Faustinus, though Weke chased after him.
However, Vultur faced Weke and fatally wounded him. At the same time, Aquilus hurried home, only to find his father dead and Weke sitting against a wall. With his dying breath, Weke told Aquilus that "eagles do not fear vultures... but they should learn to be wary of them."
Reference
Edit
Characters
Characters
(non-canon appearance)

Assassins

Templars

Others

Locations
Factions
Terms
Ad blocker interference detected!
Wikia is a free-to-use site that makes money from advertising. We have a modified experience for viewers using ad blockers

Wikia is not accessible if you've made further modifications. Remove the custom ad blocker rule(s) and the page will load as expected.