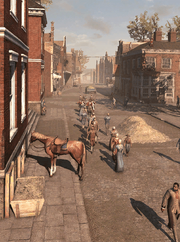 Wall Street is a street in New York which runs through the historical center of the Financial District.
Originally this street was at the edge of New Amsterdam and at this location was a 12 feet wall, hence the name. That wall was torn down in 1699 but the name was not changed.
It started to become focused on the financials of the area around the 18th century where traders met at coffee houses nearby and eventually this became known as the New York Stock Exchange.
References
Edit
Ad blocker interference detected!
Wikia is a free-to-use site that makes money from advertising. We have a modified experience for viewers using ad blockers

Wikia is not accessible if you've made further modifications. Remove the custom ad blocker rule(s) and the page will load as expected.