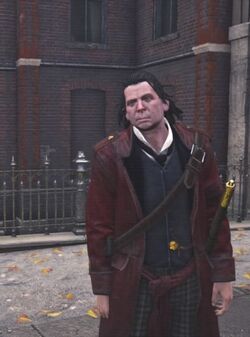 Wade Lynton was a British criminal, operating in London during the Victorian era.
Biography
Lynton had been a criminal since the age of 12, and by the time he was twenty-two, he was a member of the Blighters, and well known for his public drunkenness and his random acts of violence. Having recently relocated to the Westminster borough, the Metropolitan Police Service took an interest in Lynton's capture.
Sergeant Frederick Abberline asked his allies Jacob and Evie Frye to bring Lynton in, which the two Assassins accomplished.
Appearance
Reference