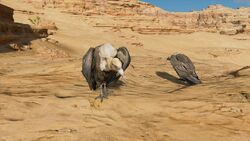 A vulture is a scavenging bird of prey of which two types exist: the Old World vulture and the New World vulture. These two groups are polyphyletic with one another, and species within both bear the featherless or semi-bald head and neck that is a trademark of vultures.
During the Ptolemaic dynasty, vulture skulls were in demand in Egyptian markets and were worth 7 drachmae in 48 BCE.[1]
In 48 BCE, Actaeon, the Order of the Ancients member known by the cryptonym The Vulture was killed in Alexandria by Aya, as a revenge for the death of her son, Khemu.[1]
Trivia
Appearances
Reference