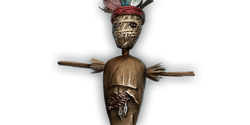 Voodoo dolls were items found in New Orleans and the Louisiana Bayou.
During her career as an Assassin, Aveline de Grandpré pickpocketed houngans throughout Louisiana to acquire the voodoo dolls.
Collecting all of the voodoo dolls granted Aveline the Chichen Itza outfit for her slave persona. It could then be bought for free at any tailor shop.
Reference
Edit