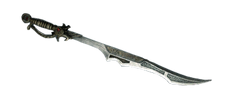 Vlad Tepes' Sword was a sword obtainable by Ezio Auditore da Firenze during the 16th century. He recovered it from Vlad the Impaler's Prison sometime in 1511.
The sword was the personal weapon of Vlad "the Impaler" Tepes and was ultimately placed in his tomb with him after his death.
Weapon statistics
Edit
Reference
Edit
Ad blocker interference detected!
Wikia is a free-to-use site that makes money from advertising. We have a modified experience for viewers using ad blockers

Wikia is not accessible if you've made further modifications. Remove the custom ad blocker rule(s) and the page will load as expected.