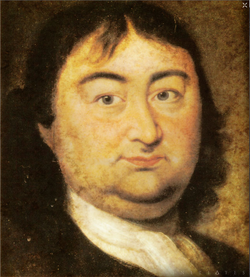 Vitus Jonassen Bering (c. 5 August 1681 – 8 December 1741), also known as Ivan Ivanovich Bering, was a Danish navigator, explorer and officer in the Russian Navy.
In 1724, he was selected by Peter the Great to explore the territory between Asia and North America, and determine if the two continents were connected by land. This was because the Russians wanted to find a Northeast Passage to North America. Bering was the first European to properly explore the region and in 1728, he navigated the sea between the two continents. His explorations paved the way for Russian involvement in North America.
Reference
Edit
Ad blocker interference detected!
Wikia is a free-to-use site that makes money from advertising. We have a modified experience for viewers using ad blockers

Wikia is not accessible if you've made further modifications. Remove the custom ad blocker rule(s) and the page will load as expected.