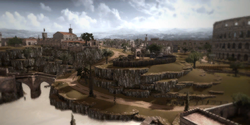 The Viminal Hill (Latin: Collis Viminalis, Italian: Colle Viminale) is one of the Seven Hills of Rome.
The smallest of the Seven Hills of Rome, the Viminal is shaped like a little finger pointing towards the central city. At the top stands the palace of Viminale, which is the office of the Ministry of Interior. This little hill was also home to the Terme di Diocleziano, which were renowned as the grandest of the public baths.
Reference
Edit
Ad blocker interference detected!
Wikia is a free-to-use site that makes money from advertising. We have a modified experience for viewers using ad blockers

Wikia is not accessible if you've made further modifications. Remove the custom ad blocker rule(s) and the page will load as expected.