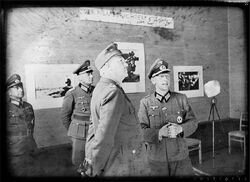 Vidkun Quisling (18 July 1887 – 24 October 1945) was a Norwegian politician. During World War II, he served as the Minister President of Norway, supported by Nazi Germany.
Biography
Vidkun Quisling was a member of the Norwegian government until 1933, when he resigned to form the fascist Nasjonal Samling party. Following the Nazi invasion of Norway in April 1940, he appointed himself head of the Norwegian government. Because of its lack of popular support, Quisling's regime was extremely fragile, collapsing within a week.
In spite of this, he continued to serve the Third Reich as commissioner for Norway, remaining in power until the liberation of Norway in May 1945. Following his fall from power, Quisling was charged and convicted of murder, theft, embezzlement and treason, and was executed on 24 October 1945. In modern-day Norway, his name has become synonymous with the word "traitor".
Appearance
Reference