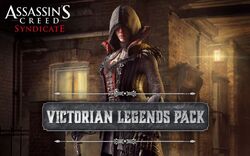 The Victorian Legends Pack is a downloadable content addition for Assassin's Creed: Syndicate. It was released on November 17th 2015 on PS4, Xbox One & PC.
Description
Edit
The Victorian Legends pack pays tribute to some of the most famous novels of the Victorian era. Underwater adventures, vampires and man-made monsters come to life as state-of-the-art weapons and gear that's sure to give Jacob & Evie a stylish edge over the Templars. This Animus trickery contains an outfit for Evie, three weapons and two pieces of gear. Players need to be level 7 and above to equip these.
Downloadable content
Edit
Bloofer Lady outfit - for Evie
Belt of Good and Evil
The Count's Cloak
Cane-Swords
Edit
Assassins Gauntlets
Edit
Reference
Edit
Ad blocker interference detected!
Wikia is a free-to-use site that makes money from advertising. We have a modified experience for viewers using ad blockers

Wikia is not accessible if you've made further modifications. Remove the custom ad blocker rule(s) and the page will load as expected.