I was just playing Assassin's Creed II Discovery on my iPod but I just saw this sign and thought what could this be? I think it is the sign of the company that makes Animus and wanted this sign as my Windows 7 startup orb. But when I searched on Google. That 'Animus logo' it showed Abstergo logo. Can any1 tell me what this sign is and link me to download this startup orb.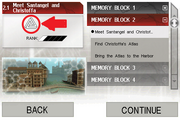 Ad blocker interference detected!
Wikia is a free-to-use site that makes money from advertising. We have a modified experience for viewers using ad blockers

Wikia is not accessible if you've made further modifications. Remove the custom ad blocker rule(s) and the page will load as expected.