After 2 weeks waiting, the time is finally come, the greatest, the awesomenest game ever: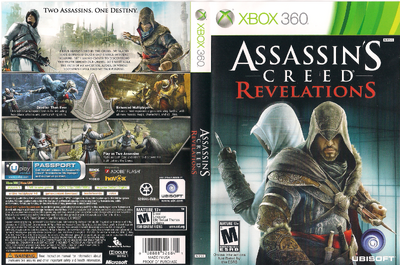 ACR!!!!!
WOOOOOOOOOOOHOOOOOOOOOOO Victoria Agli Assassini!!!!
With these first blogspot, I give you all these official description:
Description:
Assassin's Creed Revelations presents the most immersive experience available in the series to date and the culmination of Ezio's adventure. In Assassin's Creed Revelations, master assassin Ezio Auditore walks in the footsteps of his legendary mentor, Altaïr, on a journey of discovery and revelation. It is a perilous path – one that will take Ezio to Constantinople, the heart of the Ottoman Empire, where a growing army of Templars threatens to destabilize the region.
In addition to Ezio's award-winning story, the acclaimed online multiplayer experience from Assassin's Creed Brotherhood returns, refined and expanded, with more modes, more maps and more characters that allow players to test their assassin skills against others from around the world. The latest chapter in the Assassin's Creed saga also includes revolutionary gameplay, allowing players to manipulate the construct of Desmond's memories and the Animus to decipher the mysteries of his past and gain insight into the future.
Main Features:
BECOME DEADLIER THAN EVER – Wield the lethal skills of a wiser, more efficient and deadlier Ezio. Swiftly eliminate your adversaries by deploying a new arsenal of weapons and abilities, such as enhanced free-running and hook blade combat. Experience new levels of gameplay customization with bomb crafting, and use heightened Eagle Vision to overcome your enemies and the environment.
TEST YOUR SKILLS AGAINST THE BEST – A critically acclaimed multiplayer experience gets even better, with all-new team modes and infinite replay value.
EXPERIENCE REVOLUTIONARY GAMEPLAY – Explore the farthest reaches of the Animus as you uncover the mysteries of Desmond's past while gaining insight into what the future might hold.
Minimum System Requirements :
OS: Windows XP, Vista or Windows 7
CPU: Intel Core 2 Duo E4300 1.8 GHz or AMD Athlon64 X2 4600+ 2.4GHz
RAM: 2 GB
HDD: 12 GB free disk space
Sound Card: DirectX 9 Compatible
DirectX: Version 9.0c
introduction
I'm Vhone griffin, a new guy around here. You can call me Griffin. or Vhone. or Griff. Whatever suits you. Well, i've seen another Games Wiki and i decide this is the coolest wiki I ever seen, don't ya agree with me?
Oh, Btw I don't mean to being like an Admin around here, but I think it's worth to be posted.
Ad blocker interference detected!
Wikia is a free-to-use site that makes money from advertising. We have a modified experience for viewers using ad blockers

Wikia is not accessible if you've made further modifications. Remove the custom ad blocker rule(s) and the page will load as expected.