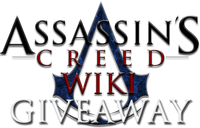 After a week's delay, the Caption contest for GUNNAR glasses giveaway is open. Any user can post a caption, not just US and UK users. However, only the US and UK users get the glasses, while others are given a 15% discount code that can be used to purchase glasses, if available in your country.
US and UK users are requested to leave a note along with their caption, helps us sort you guys out among the others. Visitors without an account are advised to create an account and submit their entries. Who knows, you might even win a pair of glasses or the discount code.
As usual, the rest of the contest rules apply;
Each person is limited to one, and only one, entry.
Any entries made by anonymous users a.k.a. users who haven't logged in or do not have an account, will be removed.
The theme of the image (Thanks to Dark) is"Hangover!! Assassin's Creed style." Remember, the contest ends on September 30, 2012 and winners will be announced on October 1, 2012.
Make sure to mention if you are a resident of UK or US.
Format

"Witty caption or regular one."
From UK/US

Ad blocker interference detected!
Wikia is a free-to-use site that makes money from advertising. We have a modified experience for viewers using ad blockers

Wikia is not accessible if you've made further modifications. Remove the custom ad blocker rule(s) and the page will load as expected.