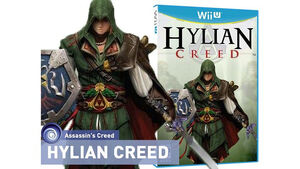 Hello everyone, I am start with a petition to make the former joke of Ubisoft México, Hylian Creed reality.
I have need in total 20.000 supporters to convince Nintendo and Ubisoft to developing Hylian Creed for real.
I hope to give the Wii U a bigger boost to the hardcore gamers with this action.
Here are the webpages:
Ad blocker interference detected!
Wikia is a free-to-use site that makes money from advertising. We have a modified experience for viewers using ad blockers

Wikia is not accessible if you've made further modifications. Remove the custom ad blocker rule(s) and the page will load as expected.