Assassin's Creed: Brotherhood's exclusive Playstation 3 mutliplayer beta has been delayed by quite a handful of days, as stated by Ubisoft on September 9th, Ubi has given no reason for this delay, funnily enough, Ubisoft has a great history of delays; such as DLC Delays, AC2 PC, PoP (2008) and many, many more.
On another note, the PC Version of Assassin's Creed: Brotherhood will be delayed, most likely due to a fault in the DRM anti-piracy program. The PC version will be arriving in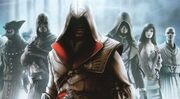 early 2011, most likely late Feburary onto early March.. Dissapointing, the AC2 PC version took a half a year vacation, so PC users are lucky just to have this.
Source: http://www.vg247.com/2010/09/09/assassins-creed-brotherhood-beta-kicks-off-on-october-4-pc-version-delayed-into-2011/
Article written by Thief, Information from www.vg247.com
Ad blocker interference detected!
Wikia is a free-to-use site that makes money from advertising. We have a modified experience for viewers using ad blockers

Wikia is not accessible if you've made further modifications. Remove the custom ad blocker rule(s) and the page will load as expected.