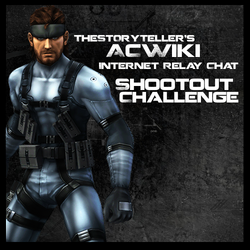 "I'm a god at this"
―BlaiddDdraig - Care to prove him wrong?
Hey there people of the Internet, Teller here issuing you a challenge, there's a new feature on the IRC Chat which is a Gun shootout. You just type in .play theusersnamehere and it will give you some options to either .shoot or .spin it's a game of chance and the Winner will earn a userbox claiming themselves "Champion of Champions." The current possessor of this title is AnimusRadiation, are you up to the Challenge? Maybe, maybe not. This will be updated day by day, you have one week to sign up, just put your name in the comment section below. Just type "I'm in" and I'll post a table of your opposition, RANDOMLY PICKED! It will be interesting and fun, I suggest you try.
Teller Words, On my Screen :O 05:51, October 16, 2011 (UTC)
PS: My last blog for the weeks to come, thank god. ;)
Ad blocker interference detected!
Wikia is a free-to-use site that makes money from advertising. We have a modified experience for viewers using ad blockers

Wikia is not accessible if you've made further modifications. Remove the custom ad blocker rule(s) and the page will load as expected.