This year at Game Developer's Conference, Audio Designer Jerome Angelot and Music Specialist Benedicte Outmet of Ubisoft broke down the approach to the exciting soundtrack of Assassin's Creed III. They spoke of the challenges of molding the music to fit the new game (but while simultaneously fitting within the brand), and how important it is to fit music into cinematics and gameplay together.
The Beginning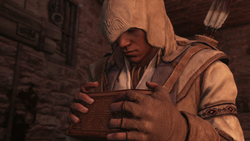 A New Beginning: fifth installment, first one since ACII to introduce a new main character. Needed to leave behind the old world and create a new one. Met with the creative team to come up with something fresh for new beginning.
A new approach and a new sound was needed for the score, while remaining true to the brand.
Brand Pillars
History is our playground
Attention to detail
Strong storytelling and characters
Mythological background
Open-world action/stealth gameplay
Vast Environments
The Music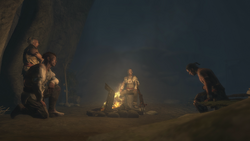 Instrumentation was  to make the fantasy come real. There was a large focus to keep the music from each environment wholly different.
British side: Harpichord and English Horn.
Connor: Flute and Drums to highly Native American heritage.
Homestead: Blending of both sides. Always sunny music, makes you feel welcome.
Researched source music in the 18th century. Finding music from the time period was difficult, hard to date, and some elements had to be removed.
The Frontier: How to diversify the music in game. Made things very minimal, no percussion, use of voices and flute.
The Present: modern elements, orchestra. 
The Beggar's Opera: It was difficult to find a piece of music that was faithful from the time it was being preformed. It was rearranged in the 1940s, but with elements modernized. Had to re-record fifteen minutes of the opera, had help from university programs, record labels, several players.
Music of the Kanien'kehá:ka
Connor is English/Native-American, wanted to bring in music from his herritage. There was authetic Mohawk music in the game, turned out to be difficult to obtain. There was the tradition that Mohawk music is for Mohawk people. It makes sense, for they are a small community with a need to protect their culture. ACIII Team had a contact info for  the leader of the Mohawk male singing society. It turned out that that all the male singers in this society were teenagers and LOVED Assassin's Creed!
Recorded happy songs, we're prefect for Connor's childhood, and allowed for great contrast to when Charles Lee is first introduced. When Connor is playing hide-and-seek in the beginning, this is the song that was recorded.
Combat Music Integration
Start conflict loop -> no hits during x seconds -> Observation Phase
Player strike -> count enemies present to decide what music to play
Few enemies -> normal combat loop
Many enemies -> epic combat
One enemy -> 1 v 1 music
1 enemy left -> break part, waits for player action to run/fight
Transition seamlessly through these different parts.
When everyone is dead, end combat loop.
Ad blocker interference detected!
Wikia is a free-to-use site that makes money from advertising. We have a modified experience for viewers using ad blockers

Wikia is not accessible if you've made further modifications. Remove the custom ad blocker rule(s) and the page will load as expected.