Ad blocker interference detected!
Wikia is a free-to-use site that makes money from advertising. We have a modified experience for viewers using ad blockers

Wikia is not accessible if you've made further modifications. Remove the custom ad blocker rule(s) and the page will load as expected.
So with E3 just around the corner and fresh info about Revelations looming, we're all itching to know what this fresh installment will bring to both single player and of course the awesomeness that is multiplayer. So while we wait, why not take the time to perfect your online game?! "The Stun Factory" is offering free tutorials on how to SCHMACK a Templar upside the head!!
I know I have already mentioned the master of multiplayer that is Escoblades in a previous blog, but this guy has just upped his game TEN FOLD. His YouTube channel hosts an accumulation of some of the best and most helpful Brotherhood multiplayer commentaries out there. His dedication to his fanbase has proven bountiful with each new video getting better and better. Mentioned on the Assassin's Creed official facebook page TWICE for his overload of #awesomesauce, he has quickly become one of the AC communities most valuable and prolific members.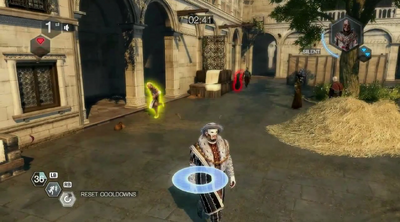 A recent video titled "Rules Of Engagement" (produced with the help of fellow Brotherhoodian - Murcuseo) is easily the best Brotherhood mutiplayer video out there, check it out NOW! So c'mon guys lets show some support for this awesome community of ours: Subscribe to his channel and follow him on twitter, I promise you will not be disappointed! His tactical gameplay boasts scores that some of us could only dream of... until now that is. I know, I know, it's hard to believe he's offering this stuff for free but hey... I'm not complaining! Anyway, I can not big this guy up enough and talking about his work just doesn't do it justice, so if you haven't already, just please check him out. As always, thanks for reading, 16* out!! :D