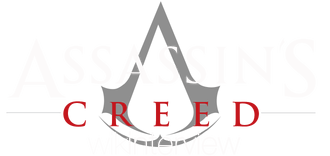 What would you do with $700 and an insane amount of talent? That's right, make your very own kick ass Assassin's Creed fan film. Huzzah!
So yes, it's that time again. Where we look at some of the wider community's most awesome peeps. This week I've had the privilege of catching up with Marcus Finkel and Josh Adams, the creators of arguably the best AC fan film we've ever seen - Assassin's Creed: Parallel. So sit back and enjoy.
---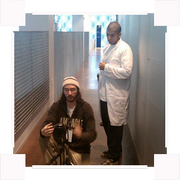 Subject_16*: Hey guys, thanks again for taking part in this wikinterview of ours. How are you? Everything going well in that insanely creative world of yours?
Marcus & Josh: Oh wow, we're flattered! Things are great for us. We have a ton of projects on the table, set to be done the end of the summer. Busy? Yes. Creative? If you say so, haha.
16: Could you give us a little introduction to yourselves? What are your interests and professional backgrounds?
M: Well I'm just a guy who loves making movies. I started in the backyard with friends, and eventually made it this far. Parallel was my first big project. Josh has made films for years and even won a few film festivals. We have experience, and all, but still have a lot to learn. You should have seen us on our shoots. You'd reconsider calling us professional!
16: So lets talk Assassin's Creed: Parallel. The fan made short film has received some great community support post release and was even featured on the official Assassin's Creed facebook page as part of "Fan appreciation Friday". Did you guys ever expect to reach such success? Do you feel that the AC community differs from other gaming communities? If so, how?
M&J: If anything, we had always hoped to be featured there, but never expected it to happen. Once we found out that the great Gabe Graziani was following our progress we had an idea that it was possible. We were also ecstatic that you guys posted us too! Heh, the thing that would make our lives complete though, is if 'The Beard' himself (Patrice Desilets) would watch it! I would die happy... The AC community is enormous, and extremely diverse. It's cool to see a game that can get both gamers into history, and history buffs into gaming!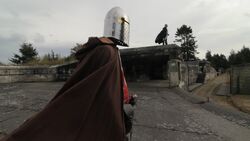 16: Can you give us an insight into the early stages of the project? Developing a storyline, allocating funding etc. Also, how long has the project been active, were certain this was not an overnight phenomenon?
M&J: It has been in the making for a while. We came up with the idea around Christmas of 2010. Josh wanted to do a short based on the past, and I always wanted to do a present day version. We figured why not make a 15 minute short based on both? The bleeding effect was the perfect way to do that. It also let us play with concepts and themes that aren't given too much attention, but are still essential to the story. The next couple months were spent writing a script, and storyboarding. Once that was finished we wanted to shoot right away, but didn't have the money to do so until late September. In between that time, I was buying pieces of the Asad costume, and Josh was saving up to rent the camera. Once most pieces were in place we still held out on the project, mostly because we were lazy! Haha, the thing that jump started us back into action, was the Assassin's Creed in 60 seconds contest. Our 'Neumann's lost footage' entry (seen after the credits) didn't win, but it was a perfect way for us to start gaining support for the film. Once we had fans, we knew we couldn't let them down. So we cracked the whip and began shooting in October and wrapped up early January.
16: Once the foundations had been decided on, how did you guys turn imagination into reality?
M&J: We came up with the idea to make the short feel like the main cinematic trailer from the first AC, but extended and with a little more dialogue. We also had specific ideas for the characters. Where Aren would be human and identifiable, Asad would be the opposite; the apparition. The whisper, if you will. Heh, it sounds easy on paper, but was pretty difficult to capture on camera. We think it turned out well.
16: How large was your team?
M&J: All together, there was 16 of us! The core team was about 5 of us though.
16: Were they friends helping out, or a hired cast? Can you list some of the people and the roles they played in the project? Both in front of and behind the camera.
M&J: We had both. Haha, all of the guards are friends and co-workers of ours. My bother-in-law (Peter Zavala) played the young, rich prince in the group, and Idris (John Garnett) is a buddy of Josh's from college. We had a very tight budget so we put out an ad on Craigslist for local actors, and were very scared of the responses we'd get. (Haha, one response was a guy in a monks robe with no pants! Creepy right?) To our surprise we got a pretty solid team to help us out. For free even! They were all very gung-ho about the project too, which made filming that much easier.
16: How difficult was it to attain permission to film some of those awesome Abstergo based scenes?
M&J: All we had to do was ask! We shot at our old, but remodelled colleges. They were more than happy to help us. As for the bigger set, we had to pay 75/hr to shoot, heh. Though, the thing that we are very thankful of would be all the Seattle based guerilla film makers. Apparently, many groups have just run in with a wardrobe rack, and lighting equipment, and just started filming, only to get kicked out instantly. Since we actually took the time to go through proper channels, we were able to have much more freedom, and access to locations than we could have ever asked for. Ask (and/or pay) and you shall receive!
16: Wardrobe and props, how did you guys get your hands on such awesome gear?
M&J: Josh, his brother, and the guard I stab in the Templar's temple (Ryan Pankratz) have a HUGE collection of medieval gear they have collected over the years. So we had the guards decked out in some awesome gear. The Asad costume was put together mostly from the museum replicas costume, but we had a custom leather belt and shoulder strap commissioned. The sword I used was actually a broken pirate sword from a Halloween store, but all the other blades on screen are real! We got pretty creative due to our lack of funds lol.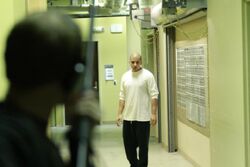 16: What equipment did you use to film the project and what editing software did you use?
M&J: We rented, then bought, the Rebel t2i. That thing is amazing for the price. We have a great tripod, our trusty old 'ghetto steadicam', and even got to use a dolly. We edited in both Premiere CS5, and After Effects. Had a ton of problems in both, but such is the way when working on a film.
16: You guys are obviously huge fans of the AC series. This can been seen by the massive amount of attention to detail shown in the film. We noticed some sneaky little AC1 related Easter eggs, that we won't spoil for those who haven't spotted them yet, that could only be pulled off by true fans of the series. Explain a little about your relationship with the franchise: What's your favorite game and why? Who's your favorite protagonist and why? And what are your hopes for AC III, where would you like to see it go?
M&J: Thanks for mentioning that! There's a lot overlooked in the film that we wish more people would find, and comment about. (An easy one is the homage to the first AC when Aren is blending in with the lab techs a la Altaïr and the monks!) Anyway, For both Josh and I, it would have to be the first by far. As repetitive as it could be, it was just one of those games that made my mouth drop while playing. I mean, from the amazing script, to the perfectly fitting soundtrack by the incomparable Jesper Kyd, to the overall stylistic/cinematic nature of the game, I was just blown away. Don't get me wrong, 2 did everything just right, and Brotherhood, somehow, expanded on that. I think it must be because it was something completely new and unexpected for me, it left such a huge impact on me. Also, I'm a sucker for conspiracy theories and Nolan North haha! My favorite protagonist would have to be Altaïr. I mean the first game didn't flesh his character out as well as they should have, but through reading the wiki and playing his parts in Revelations, you get a better understanding of him, and you see all the burdens he carries throughout the years. As for AC3? First off, I would love to see Ubi do away with the obsession of the dubstep trailers, and get back into the stealthy, ambient/tech based vibe of the first game (yes, I may be biased!). In terms of story, I'd love to see them finish the series strong by focusing on Desmond as he finds this last temple. I'd love to go back in the Animus and all, but it seems unnecessary at this point. Unless he has to go back to the first civilization to find said temple.....?!??!!? That would be fun!
16: So have you guys got any future projects in the making for us? If so, can we at the AC Wiki be promised an exclusive sneak peek before release?
M&J: That definitely sounds possible. Aside from a 'behind the scenes/ making of' that will be out soon, we have about five scheduled projects, with the possibility of more. We will have those details soon on our facebook page and the Youtube page. One of the ideas floating around is a sequel to 'Parallel,' but if we decide to do it, we want to go WAY bigger than the first. We are looking into getting the Seattle chapter of the SCA involved! We are even contemplating casting 'the flying one' himself! Oops, said too much! Anyway, its just ideas right now heh...
16: Wow, that sounds great. If that's not enough to whet our appetites, nothing is. Thanks for your time guys, we wish you all the best with your future ventures. We look forward to seeing what ever you both come up with. Cheers, and thanks again for joining us.
M&J: Thanks for taking the time to talk to us! We really appreciate you guys and the fans for all the support! We've got some great things brewing so stay tuned!
---