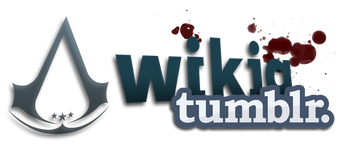 Social Media expansion FTW!
Hello and welcome to a very brief community related blog. I'm just writing to inform you that in accompaniment to our facebook and twitter page, we are now live on tumblr. I've been thinking about new ways to extend our external reach for some time now and after the great reception we've received on other social media sites, it seemed like the next logical step forward was to have a presence on yet another popular network.
What tumblr will allow us to do, unlike facebook and twitter, is to post and blog more casually and with more frequency - helping to drive more traffic our way. This will be especially beneficial for our increasingly popular fan section, as I'll be posting featured fanons alongside links to some of our mainspace articles as well as other important Assassin's Creed related news and community talent. The account will undergo a trial period for the next few weeks so I can monitor and evaluate it's success. So I'll keep you posted. If you're on tumblr, be sure to follow. If you're not, SHAME ON YOU! XD
So I'm interested in what you guys think about it and if you have any other suggestions for effective community expansion?
Cheers guys, I appreciate your time. --☘ Sikksta ☘ ➜ ☎Talk☎ 21:47, May 9, 2012 (UTC)
Ad blocker interference detected!
Wikia is a free-to-use site that makes money from advertising. We have a modified experience for viewers using ad blockers

Wikia is not accessible if you've made further modifications. Remove the custom ad blocker rule(s) and the page will load as expected.