Ey ladies and gents, its me, Twelve bringing you another epic CAPTION CONTEST. If you're new to the whole idea, the basic concept is that each week (or so) a new image/comic strip is posted, chosen by our own ACWiki admin, Vatsa1708. Each member is allowed three entries per contest, so as not to clutter up things, and the winner will be announced at the following week's contest. Now lets get started.
Special mention
A special shout out to War Clown for his entry involving the innovative use of pop culture references, featuring the artists we all know and love, LMFAO. So, here's to you Jack.
thumb|500px|left|WARNING: The following video is rated PG-13 for outlandish displays of sexiness.
Last week
Last week we had some good, crisp entries. However I think the length of the comic somewhat put some people off. So, the winner... 'R BlaiddDdraig!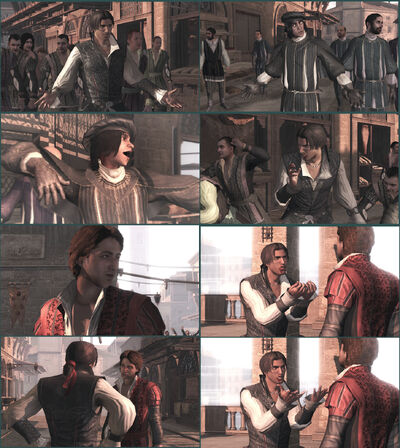 Ezio: Your sister seemed quite satisfied with the handling I gave her last night.
Vieri: My sister wasn't home last night, she's out of the city while my grandmother is visiting.
Vieri: Aawwwwwww yyeeaahhhhhhhhhh.
Ezio: Ugghhh, oh god... Auurrgghhh.
Federico: Shit aye, bro?
Ezio: Shut up man, this ain't funny. It's disgus--
Federico: Make me.
Ezio: ......Fuck you.
This week
Now, this weeks image, enjoy: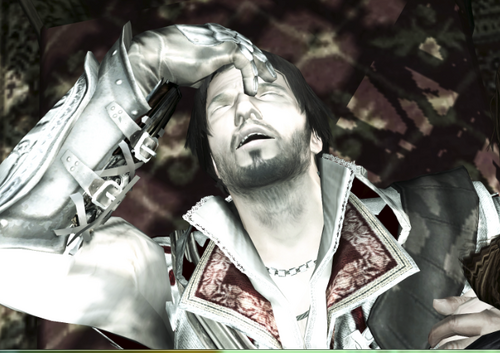 Ad blocker interference detected!
Wikia is a free-to-use site that makes money from advertising. We have a modified experience for viewers using ad blockers

Wikia is not accessible if you've made further modifications. Remove the custom ad blocker rule(s) and the page will load as expected.