So I was reading all the same information of Revelations in the new issue of GamesMaster, and suddenly (it happened on the last page of cover-up, I think) I discovered one thing. Look at the red brick! Now!
OK that's what said there: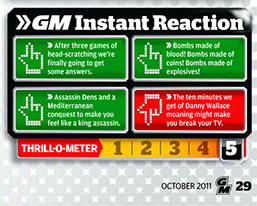 "
The ten minutes we get of Danny Wallace moaning might make you break your TV"
.
Looks like Shaun returns! We're happy, right?
I thought that the Black Room is unreachable from outside though, so probably I was wrong. ;)
Ad blocker interference detected!
Wikia is a free-to-use site that makes money from advertising. We have a modified experience for viewers using ad blockers

Wikia is not accessible if you've made further modifications. Remove the custom ad blocker rule(s) and the page will load as expected.