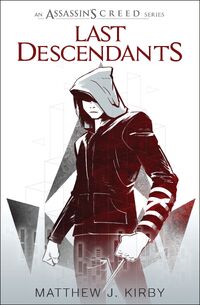 Ubisoft and Scholastic have announced a collaborative effort in the form of a new Assassin's Creed book series. The young adult novels, written by Matthew J. Kirby, will be titled Last Descendants, with its first installment set to release in September of this year. The second novel will come out in January 2017.
The books will follow a group of teenagers who are dragged into the conflict between the Assassins and Templars. In the first novel, the protagonist Owen will dive into the genetic memories of his ancestors through the Animus to prove his late father's innocence. Through exploring locations such as 1860s New York and the Aztec Empire during the Spanish conquest, he stumbles upon an artifact called the Trident of Eden and becomes entangled in the centuries-old war Assassin-Templar war. The novel will also include characters like William M. Tweed, Hernán Cortés and Adelina Patti.
Ad blocker interference detected!
Wikia is a free-to-use site that makes money from advertising. We have a modified experience for viewers using ad blockers

Wikia is not accessible if you've made further modifications. Remove the custom ad blocker rule(s) and the page will load as expected.