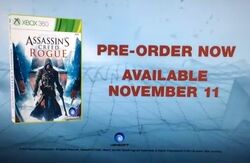 After months of rumours related to Assassin's Creed: Comet, and most recently Assassin's Creed: Rogue, the game has finally been confirmed. The game stars the Assassin-turned-Templar Shay Patrick Cormac, operating around the North Atlantic during the Seven Years' War, hunting down his former Assassin brothers.
Cormac's travels take him to the open waters of the Atlantic Ocean, but also to a reimagined New York and the Appalachian River Valley. His story will also be related to that of the Kenways, and Shay will also play a notable role in the story of Assassin's Creed: Unity.
The game is slated for release on 11 November 2014. Check out the world premiere trailer here.
This confirms earlier rumours that surfaced around the time we first heard of Assassin's Creed: Unity. Those rumours said the game will be set in 1758, and that familiar faces such as Adéwalé and Haytham Kenway will be seen again.
Ad blocker interference detected!
Wikia is a free-to-use site that makes money from advertising. We have a modified experience for viewers using ad blockers

Wikia is not accessible if you've made further modifications. Remove the custom ad blocker rule(s) and the page will load as expected.