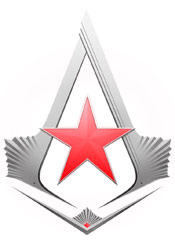 Recently we saw the Egyptian Assassin picture leaked by UbiWorkshop. Now, more information on the comic book series has been revealed. A Russian Assassin crest has been shown as well as a teaser trailer set in Russia. So that's Egypt and Russia so far, while Japan has also been hinted (in the former comic artwork, a big red sun can be sun, similar to the big red dot of Japan's flag).
Will we see something of the Tunguska Explosion and/or the Templar Grigori Rasputin? We'll see.
Reminder, guys: this is NOT a game. Don't get your hopes up.
Ad blocker interference detected!
Wikia is a free-to-use site that makes money from advertising. We have a modified experience for viewers using ad blockers

Wikia is not accessible if you've made further modifications. Remove the custom ad blocker rule(s) and the page will load as expected.