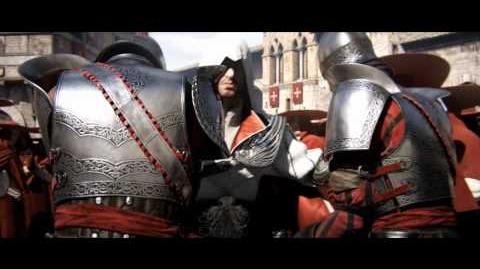 Today, a trailer for
Assassin's Creed: Brotherhood
was released for the Electronic Entertainment Expo (E3).
The trailer features Ezio (and later some other Assassins) facing Cesare Borgia and his men in combat while the pope is driving through the city in his carriage. You can also notice the other Assassins wielding some new weapons, like a bow and a club, and the guard on the roof wielding a rifle.
Additionally, Assassin's Creed: Brotherhood now has a confirmed release date of November 16th 2010
Ad blocker interference detected!
Wikia is a free-to-use site that makes money from advertising. We have a modified experience for viewers using ad blockers

Wikia is not accessible if you've made further modifications. Remove the custom ad blocker rule(s) and the page will load as expected.