| | |
| --- | --- |
| | If a composer could say what he had to say in words he would not bother trying to say it in music. |

Well Ladies and Gentlemen, a much loved topic among many fans of the series is the awesome musical score that the games have had in them. Many of us still listen to Assassin's Creed IIs soundtrack with awe and Assassin's Creed: Revelations has some of the most interesting mixes to date.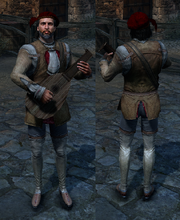 To this date I still listen to the track "Party Hard" for Assassin's Creed: Revelations while rushing to meet a deadline (something that happens far too often). Every fan of the series knows of Jesper Kyd's work yet there is also another great composer who deserves recognition for his many contributions to the series, and that is Lorne Balfe. Undeniably the community at large has numerous discussions on the music and it's impact in the games but often we never get to hear the side of those who created the pieces and what was it that inspired them in their work.
Thankfully, Loomer979 got a chance to have a long chat with the man behind the music for Assassin's Creed III in his latest video and gives the community the rare opportunity to understand the inspiration and talent that brought us a great soundtrack.
But before we listen to the video let's have a brief history lesson on the man himself.
Lorne Balfe (born February 23, 1976) is a Grammy award- winning film composer from Inverness, Scotland. Lorne is known for composing the scores to the DreamWorks' animation Megamind, and Ron Howard's film The Dilemma, in collaboration with Academy Award- winning composer, Hans Zimmer.
In addition to being recognized for producing two of Zimmer's Oscar- nominated scores, Sherlock Holmes and Inception, Lorne has also received significant recognition for his work in the United Kingdom.
Main article: Lorne Balfe
Video
A long video but worth a listen for all fans of the music in Assassin's Creed III. Leave your thoughts in the comments below.
Ad blocker interference detected!
Wikia is a free-to-use site that makes money from advertising. We have a modified experience for viewers using ad blockers

Wikia is not accessible if you've made further modifications. Remove the custom ad blocker rule(s) and the page will load as expected.