So, no late Polls this week, but, as it seems, no actual polls either. Something to do with the Wikia Hub seems to have messed up tabbing and polls on here, so until I (or anyone else) can find a fix for this, you'll just have to tell me your answers in the comments. *sigh* :L
Anyway, enough with being melancholy, lets get onto the "Polls"!
Polls
This Week's Polls
My Poll
How excited are you for finding out what happens in the story of Assassin's Creed IV: Black Flag?
Not excited at all - gameplay is where it's at
Excited for Edward's story, but don't care about modern day
Want to know what goes on in Abstergo, but don't care much for Edward
Hyped for both modern day and the past!
Which Assassin's Creed game had the most hype-inducing trailers?
Assassin's Creed
Assassin's Creed II
Assassin's Creed: Brotherhood
Assassin's Creed: Revelations
Assassin's Creed III
Assassin's Creed IV: Black Flag
Last Week's Results
My Poll
What is your favourite part of the "3 Pillars" of Assassin's Creed gameplay?
10 Votes
Free-Running
1 Vote
TIED: Combat AND Stealth
My Second Poll
What are your thoughts on the recently announced "Freedom Cry" DLC for Black Flag, involving Adewale?
7 Votes
Looks awesome!
4 Votes
I'll see how the reviews treat it
1 Vote
Not really interested
If in Black Flag there are choices of improvised weapons, which would be the most fun to use?
5 Votes
TIED: Banana AND Rum bottle
2 Votes
Other (Shark Skeleton and Tribus)
Question of the Week
"What game was it that you were most excited for? Note that this is not specific to Assassin's Creed games." - Asked by The Leaping Eagle
Caption Contest
This Week's Image
This Week's Image
A Liberation-themed one this week: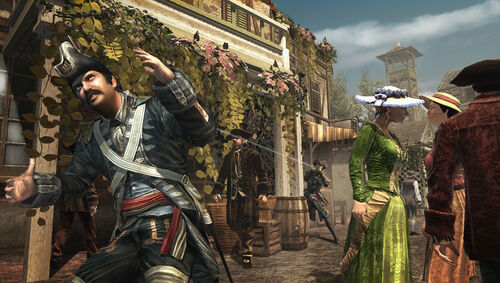 Good luck (and long live Animal Farm)!
Last Week's Captions
Last Week's Image
So here is the image from last week's contest: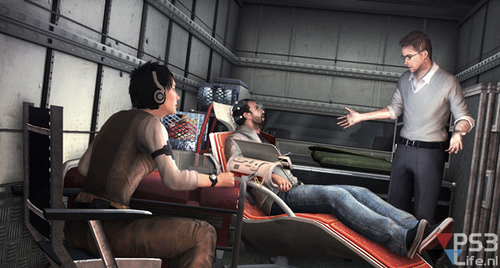 Now vote on a good caption. Or at least tell me your favourite in the comments. Bich.
Which is your favourite caption?
Shaun - "I hate to tell you this Desmond but your beard is going to vanish soon." Desmond - "What?!" Shaun - "You see Desmond, the moment you step out of this door your beard will vanish and so will your body fat. How great is that?" Rebecca - "And that people, was how everyone is the world(Ubisoft) became lazy and the world died."
"Desmond, the fuck dude?"
Shaun: "Dude, why are you reliving the memories of your female ancestors?" Desmond: "Because I always secretly wanted to be a woman."
Shaun: Desmond, you might want to worry a little. I'm pretty sure she was high when she was running the numbers. Rebecca: Shaun! Shaun: A JOKE. It was a joke – or was it?
Shaun: Good morning Desmond. Would you mind switching our roles here? I want to see my ances- Desmond: OH SIEG HELL NO SHAUN!
The Winner
The Winner from Poll 22
Well, due to the Polls messing up, it seems that only one person voted on their favourite caption from last week. So, um, the winner from week 22 is...Slate Vesper!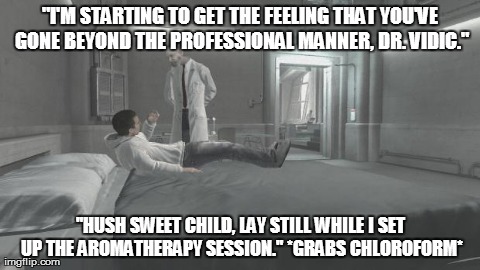 Well done!
The Pit
Basically, what is going to happen here is various parts of AC lore (characters, events, ect.) are going to be put up against each other and judged on certain aspects (for example, the most bad-ass character in Assassin's Creed) over several weeks. However, this will be pretty difficult until I am able to do actual polls again (and I just don't have enough time/can't be bothered right now to fill it in), so until we work out how to do polls once more it will be on hold.
TL;DR: Sorry, on hold! ﴾͡๏̯͡๏﴿
Submit Polls
Have a good idea for a poll, and want it featured in a future Polls? Click here to submit your idea!
Ad blocker interference detected!
Wikia is a free-to-use site that makes money from advertising. We have a modified experience for viewers using ad blockers

Wikia is not accessible if you've made further modifications. Remove the custom ad blocker rule(s) and the page will load as expected.