So I have returned from Wales. [Insert generic sheep joke here.] I trust Crimson took good care of you whilst I was gone, but for this week and the next, you will have me, until I depart again to Iceland. But after that, don't worry, because I will be at school and so should be doing every poll regularly! :) Anyway, here are your polls.
Polls=
This Week's Polls
My Poll
What did you enjoy most from the recent diving bell & Havana gameplay video of Assassin's Creed IV: Black Flag?
Alty's Poll (Prepare for these until late September...He seems to be a huge fan :D )
Which Assassin's Creed game do you like the most?
Last Week's Results
Do you have high hopes for Assassin's Creed IV: Black Flag?
41 Votes
es - I have high hopes for most Assassin's Creed games
8 Votes
Yes - I wasn't too eager for some previous games, but this looks like a real improvement
7 Votes
I'm trying to remain neutral
Who is your favourite antagonist throughout the AC series?
41 Votes
Cesare Borgia
8 Votes
Rodrigo Borgia
5 Votes
Prince Ahmet
Question of the Week=
Other than Assassin's Creed, what games do you most enjoy playing, or are you excited for?
Caption Contest=
I will likely try to find some of my favourite captions from the previous week and list them here in future, but for now I'll just give you this week's picture: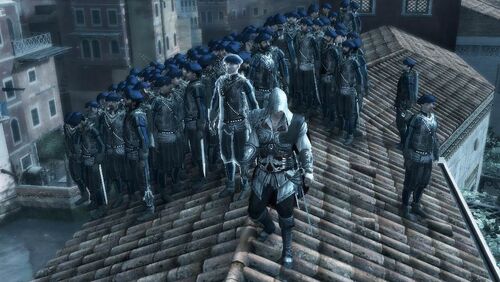 Good luck!
Parting Message=
Finally, it would be great if you could visit this place to help the polls move along.
Ad blocker interference detected!
Wikia is a free-to-use site that makes money from advertising. We have a modified experience for viewers using ad blockers

Wikia is not accessible if you've made further modifications. Remove the custom ad blocker rule(s) and the page will load as expected.