God-dammit Wikia, this poll and tabber situation really needs to be sorted out. Having to count comments for results really is quite annoying... But ah well, because in just 4 days, Assassin's Creed IV: Black Flag is released! :D So on that more positive note, lets move onto the "polls"!
Polls
This Week's Polls
My Poll
Will Assassin's Creed IV: Black Flag live up to the hype?
Not a chance - this game will bomb harder than Revelations or AC3
It's overhyped, but it'll still be good
Yeah m8
This game will more than exceed expectations
Which game released this year have you enjoyed the most?
Grand Theft Auto V
Batman: Arkham Origins
Dead Space 3
Deadpool
Saints Row IV
Injustice: Gods Among Us
The Last of Us
Tomb Raider (2013)
FIFA 14
Last Week's Results
My Poll
How excited are you for finding out what happens in the story of Assassin's Creed IV: Black Flag?
10 Votes
Hyped for both modern day and the past!
2 Votes
TIED: Excited for Edward's story, but don't care about modern day AND Want to know what goes on in Abstergo, but don't care much for Edward
1 Vote
Not excited at all - gameplay is where it's at
Which Assassin's Creed game had the most hype-inducing trailers?
6 Votes
Assassin's Creed: Revelations
5 Votes
Assassin's Creed III
4 Votes
Assassin's Creed: Brotherhood
Question of the Week
"Which of [the games in the 2nd poll], if any, have you enjoyed most? And do you think Black Flag will be better than it?" - Asked by Crimson
Caption Contest
This Week's Image
This Week's Image
Since we're going to be able to do this next week:
Good luck (and everybody do the flop)!
Last Week's Captions
Last Week's Image
So here is the image from last week's contest: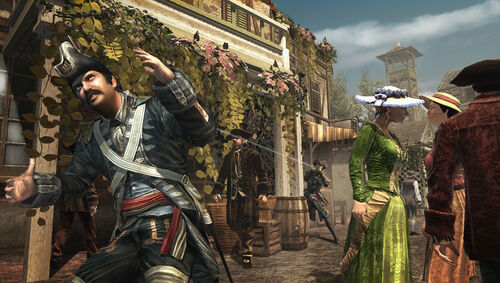 Now vote on a good caption. Or at least tell me your favourite in the comments. Bich.
Which is your favourite caption?
"Ouch. THE SKY IS FALLING!"
"Aveline uses poisoned blowpipe. Random guy is posioned. Random guy uses 'get those bees off me'. Nothing happens."
"A taco hat? Why don't I have an invisibility hat? Damn!"
The ghetto streets of New Orleans
Console: MeadowBurd blowpiped RandomMook3. MeadowBurd: You got AWPd, son.
The Winner
The Winner from Poll 23
Another week, another winner. This one also got my vote, so very well done to Fairy with this caption!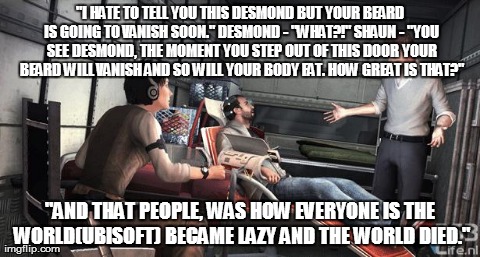 The Pit
Basically, what is going to happen here is various parts of AC lore (characters, events, ect.) are going to be put up against each other and judged on certain aspects (for example, the most bad-ass character in Assassin's Creed) over several weeks. However, this will be pretty difficult until I am able to do actual polls again (and I just don't have enough time/can't be bothered right now to fill it in), so until we work out how to do polls once more it will be on hold.
TL;DR: Sorry, on hold! ﴾͡๏̯͡๏﴿
Submit Polls
Have a good idea for a poll, and want it featured in a future Polls? Click here to submit your idea!
Ad blocker interference detected!
Wikia is a free-to-use site that makes money from advertising. We have a modified experience for viewers using ad blockers

Wikia is not accessible if you've made further modifications. Remove the custom ad blocker rule(s) and the page will load as expected.