ASSASSIN's CREED IV: BLACK FLAG coming this October 29, 2013
So two months ago, I saw the unofficial trailer of Assassin's Creed IV: Black Flag- the next installation in the Assassin's Creed series- and I might say I was mighty impressed. Now I'm not much of a fan of Connor Kenway in Assassin's Creed III (and I can say so do most of the people in the online forum), but I guess that could go otherwise for his grandfather, Edward Kenway.
Two days ago, Ubisoft release the official trailer for Assassin's Creed: Black Flag. In the first few seconds of it, I was already drawn to the craving of playing the game. ACIV focuses on the 18th century (starting 1713)- the time of treaties and betrayals, mutiny, conspiracies... and most of all: PIRATES- pirates such as Benjamin Hornigold, Calico Jack, Charles Vane and he ever-so popular Blackbeard. 
I don't know if it's because I take particular interest in the history of pirates and the stories surrounding their existence long ago, but I have a feeling that I will highly enjoy this upcoming installation. Also, it focuses on an unlikely character, Edward Kenway. 
The unofficial trailer has released more information about the game than the offical one shown by Ubisoft and I must say I was very much intrigued with Edward. Blackbeard seems to have high respect for the man (I quote, "...fights like a devil and dresses like a man")- ending with the statement that "if it's fortune and adventure you seek, then Captain Edward Kenway is your man... only, don't meddle in his private affairs- for there's more mystery in that man than even I dare ask". 
Some people in YouTube have commented on the offical trailer that Assassin's Creed has lost its originality and 'spunk' from the beginning of the series. I don't know about others, but I think I would highly disagree with that. I know I was not much of a fan of Assassin's Creed III and the American Revolution, but ACIV is- by far- NO (and I quote) "...Assassin's Creed 3- 2.0". Assassin's Creed still lived up to its reputaion in being master re-tellers of history and the upcoming game will- no doubt- further confirm that.
...I am planning to pre-order the game in two weeks and I'll say, I can't WAIT to play it. Blackbeard, you better be right about Edward Kenway! ;)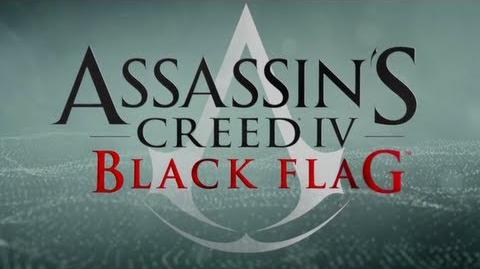 Ad blocker interference detected!
Wikia is a free-to-use site that makes money from advertising. We have a modified experience for viewers using ad blockers

Wikia is not accessible if you've made further modifications. Remove the custom ad blocker rule(s) and the page will load as expected.