The new Comic Con trailer of AC:Brotherhood is out.And it looks amazing.As suspected the players will use the Animus 1.0 to engage the multiplayer.The trailer showed the new moves features,and it seems the players can chat in multi.And be as teams.Only the new character Merchant was the new one to be featured in the trailer.So,what do you think?Are you amazed?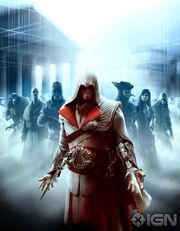 Ad blocker interference detected!
Wikia is a free-to-use site that makes money from advertising. We have a modified experience for viewers using ad blockers

Wikia is not accessible if you've made further modifications. Remove the custom ad blocker rule(s) and the page will load as expected.