Comments

87
"Brotherhood" gets 'Limited Codex Edition' in Europe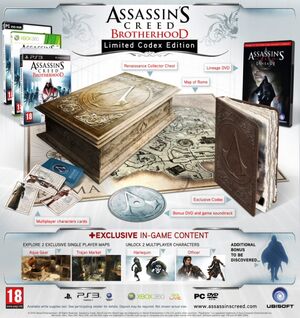 Continuing the series tradition of awesome packed collector's editions, AC: Brotherhood will have a limited edition dubbed "Assassin's Creed: Brotherhood - Limited Codex Edition" on sale only in Europe so far.
The package features:
Assassin's Creed: Brotherhood game
Renaissance Collector Chest
Exclusive Codex
Map of Rome
Multiplayer characters cards
Lineage DVD
Bonus DVD and game soundtrack
2 Exclusive single player maps: Aqua Gear & Trajan Market
2 Multiplayer characters: Harlequin & Officer
Additional bonus content yet to be revealed

Pretty awesome if you ask me, great idea to add Altaïr's full codex journal in a physical format. What you people think??
posted on:
21:29, June 16, 2010 (UTC)