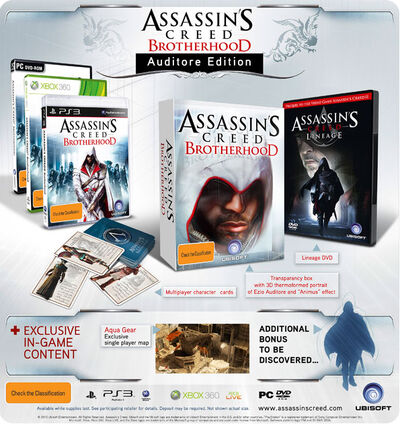 I found this picture on the site posted on this wiki by Amit_878 (thank you again) and since it's a very important information I posted it here.
The Auditore Edition will contain:
Transparancy box with 3D thermofored portrait of Ezio Auditore and Animus effect
Assassin's Creed: Brotherhood game
Lineage DVD
Multiplayer character cards
Aqua Gear; exclusive single player map
Additional bonus to be discovered
The site was in Hebrew and had to use the Google translator to get a picture of what was written. Nonetheless, the site contains a lot of info, so if anyone speaks both Hebrew and English, please translate it correctly (Google translator is not a very reliable source). The site can be found on this link.
Now please, comments and ideas.
Ad blocker interference detected!
Wikia is a free-to-use site that makes money from advertising. We have a modified experience for viewers using ad blockers

Wikia is not accessible if you've made further modifications. Remove the custom ad blocker rule(s) and the page will load as expected.