Tunnels
Talk

0
3,887pages on
this wiki
"We recently began traveling through the tunnels to avoid the guards, but many of the entrances in the city are broken. By using them, we can get to our destination rapidly, without encountering resistance."
―Niccolò Machiavelli regarding the tunnels.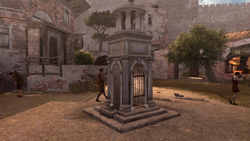 Tunnels were a means of travel in Rome and Constantinople, and were the equivalent to the Fast Travel Booths. Ezio was first introduced to the tunnels by Niccolò Machiavelli, wherein he stated that the tunnels were used to arrive at destinations rapidly, while avoiding guards. There were a total of nineteen tunnel entrances throughout Rome.
Renovations
Edit
Initially, there was only one available tunnel entrance, leaving the other eighteen to be renovated by paying a sum of florins to an architect. The three tunnels that were located outside of the Rosa in Fiore, Barracks, and the La Volpe Addormentata would be automatically renovated once the respective building fronting it was; making them the only ones that were required to be restored.
Each district could be accessed via tunnel with the exception of the Vaticano District. Every standard entrance to the tunnels looked alike, and had the letters SPQR (Senatus Populusque Romanus) engraved over their gates.
In Constantinople, all tunnel entrances were automatically renovated, allowing Ezio to freely travel between them.
Rome tunnel locations
Edit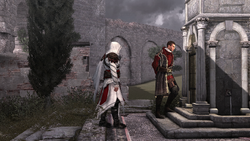 Constantinople tunnel locations
Edit
References
Edit