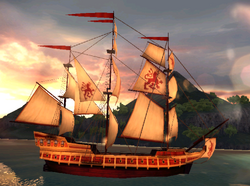 Triunfo was a Spanish legendary ship encountered by the pirate Alonzo Batilla near Havana, during the early 18th century. The flagship of the Spanish Treasure Fleet, Triunfo was converted into a warship during the War of the Spanish Succession. After that, the ship patrolled the Caribbean to secure plunder for the Spanish in the Americas.
Trivia
Triunfo is Spanish for "triumph".
Gallery
Reference
Ad blocker interference detected!
Wikia is a free-to-use site that makes money from advertising. We have a modified experience for viewers using ad blockers

Wikia is not accessible if you've made further modifications. Remove the custom ad blocker rule(s) and the page will load as expected.