Trickster
Talk

4
3,887pages on
this wiki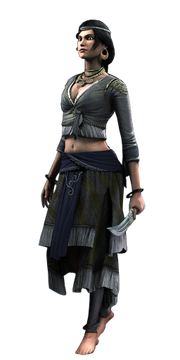 The Trickster (real name: Mirela Djuric) was an Animi Avatar used by Abstergo Industries to train the recruits in the second stage of their Animi Training Program. Her specialty weapon was a dagger.
Unique moves
Edit
The Trickster had several unique moves:
(Low Profile, Front)
The Trickster walks up to her target and brutally kicks them in their right leg, destabilizing them, before she unsheathes her dagger and slashes them across the torso, finally impaling them in their spine. From there, she sheathes away her dagger and watches as her victim collapses to the ground.
(Low Profile, Back)
The Trickster approaches her target and stabs her dagger into their back, and before they can react in any way, she spins and slashes their newly-inflicted wound. Severing their spine, the movement makes her victim fall back, paralyzed and dying.
(High Profile, Front)
The Trickster rushes up to her target and savagely stabs them in the stomach, and as they clutch their wound, she spins, using the momentum to slash their throat. With this, her victim clutches at their throat and collapses to the floor, dying of blood loss.
(High Profile, Back)
The Trickster runs up behind her target and unsheathes her dagger, before she vaults around them and impales her weapon into their neck, making her weapon slit through their throat as she pulls them with her. Once her feet touch the floor, she quickly withdraws her dagger from her victim's neck, causing them to twirl around to their death.
(Bench Kill)
The Trickster grabs her seated target's foot and drags them off the bench, until their head rests against it. Before they can do anything to defend themselves, the Trickster forcefully kicks them in the face, violently sending their head backwards and breaking her victim's neck on the bench behind them.
(Aerial Kill)
The Trickster jumps down from the building, unsheathing her dagger in mid-air, before landing on her target. As she crashes into them, she plants her blade into their head, impaling their brain.
"You are nothing to me!"
"I will kill you!"
"Come, give me a kiss!"
"Destiny awaits you."
"Your fate is sealed."
"Looking for me?"
Customization
Edit
The Trickster could be customized in several ways:
Colors:
Basic: Blue.
Extra 1: Faded red.
Extra 2: Green.
In-depth customization:
Heads:

Head 1: A ring across the forehead and pearl necklaces.
Head 2: A gilded hair net and thinner, smaller necklaces.
Head 3: A bandana and more glamourous necklaces.
Chests:

Chest 1: A plaid jacket.
Chest 2: A corset with button-up front and back.
Chest 3: A Chinese-style robe.
Arms:

Arms 1: One bangle around the left arm and two around the right.
Arms 2: Puffed shoulders and wrist sleeves.
Arms 3: Gilded gloves.
Legs:

Legs 1: Barefoot with a bangle around her right leg.
Legs 2: Open-toed leg warmers.
Legs 3: Strapped boots.
Belts:

Belt 1: A crested sash.
Belt 2: A bigger sash with an iron belt.
Belt 3: A light-colored sheet with a strap.
Accessories:

Accessory 1: Multi-layered skirt.
Accessory 2: A larger single-layered skirt.
Accessory 3: Open in the front with a hang in the back.
Weapons:
Dagger: Primary.
Small Axe: Secondary.
Sword: Secondary.
Secondary weapons:
Basic: A folding hidden blade attached to the wrist.
Extra 1: A small pike dagger attached to the back of the belt.
Extra 2: A small katar, similar to a push dagger, attached to the back of the belt.
Reference
Edit