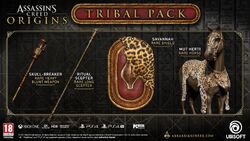 Tribal Pack is a one of the retailer exclusive downloadable content packs for Assassin's Creed: Origins, and consists of equipment pieces for Bayek.
It is obtained by pre-ordering Origins at retailers such as Game UK, Verkkokauppa or through purchasing the Apple of Eden edition at JB-Hifi.
Ritual Scepter weapon
Skull-Breaker blunt weapon
Savannah shield
Mut Herti horse
Reference
Edit
Ad blocker interference detected!
Wikia is a free-to-use site that makes money from advertising. We have a modified experience for viewers using ad blockers

Wikia is not accessible if you've made further modifications. Remove the custom ad blocker rule(s) and the page will load as expected.