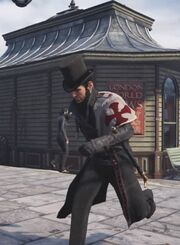 Tom Eccleston (unknown – 1868) was a British Templar who was active in London during the Victorian era.
Eccleston was known as the fastest runner in London, and recruited by the Templar Order to function as a courier, carrying vital information for them. Often, this information could vastly influence the British political landscape, involving political secrets that Eccleston delivered to the Templars.
In 1868, Henry Green directed the Assassins Jacob and Evie Frye to Eccleston, which led to his assassination on one of the Thames's boatyards.
Reference
Edit
Ad blocker interference detected!
Wikia is a free-to-use site that makes money from advertising. We have a modified experience for viewers using ad blockers

Wikia is not accessible if you've made further modifications. Remove the custom ad blocker rule(s) and the page will load as expected.