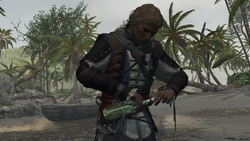 Thom Kavanagh's letters were a series of twenty hand-written notes authored by the Sage Thomas Kavanagh, Jr., that detailed parts of his life. As he wrote them, they were sent to sea in glass bottles. The letters were recovered by the pirate Edward Kenway between 1715 and 1722 after they had washed up on shores throughout the Caribbean.
The last of these letters were placed at Kavanagh's grave near the Observatory after his death.
Bottles
Reference
Ad blocker interference detected!
Wikia is a free-to-use site that makes money from advertising. We have a modified experience for viewers using ad blockers

Wikia is not accessible if you've made further modifications. Remove the custom ad blocker rule(s) and the page will load as expected.