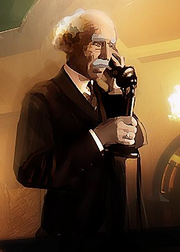 Theodore von Kármán, born Szőllőskislaki Kármán Tódor (11 May 1881 – 7 May 1963), was a Hungarian-American aerospace engineer and physicist.
In 1952, Von Kármán hired Thomas Sean Morgan to find out about the activities of Jack Parsons, his former Aerojet co-founder. On 17 June 1952, Morgan met with Von Kármán and revealed that Parsons was planning to fly to Mexico. Von Kármán hurriedly made a phone call to Parsons, though after the call wasn't answered, he sent Morgan himself to go to Parsons' lab and warn him off.
Reference
Edit
Ad blocker interference detected!
Wikia is a free-to-use site that makes money from advertising. We have a modified experience for viewers using ad blockers

Wikia is not accessible if you've made further modifications. Remove the custom ad blocker rule(s) and the page will load as expected.