The Tyranny of King Washington
Talk

43
3,880pages on
this wiki
Affiliated Title
Developer(s)
Ubisoft Montreal
Platform(s):
Xbox 360, PlayStation 3, PC, Wii U

PSN release
Infamy: 20 February 2013
Betrayal: 20 March 2013
Redemption: 24 April 2013
Xbox Live release
Infamy: 19 February 2013
Betrayal: 19 March 2013
Redemption: 23 April 2013
PC release
Infamy: 19 February 2013
Betrayal: 19 March 2013
Redemption: 23 April 2013
Genre:
Historic Action-Adventure
Features:
Single-player content
Media:
DLC (Downloadable content)
The Tyranny of King Washington is an episodic single-player downloadable content addition for Assassin's Creed III, which is composed of three parts named The Infamy, The Betrayal, and The Redemption.[1] Accompanying this, the downloadable content will be included in the Season Pass for the game.[2] Ubisoft has stated that the story will be canon for the main story,[3] contradicting a previous claim that it would be non-canon.[4]
The Infamy was released on 19 February 2013 on PC and Xbox 360 and 20 February 2013 on PS3, with The Betrayal slated for 19 and 20 March 2013 and The Redemption on 23 and 24 April 2013 respectively. In it, Ratonhnhaké:ton awakened from an unsettling dream to find that, despite his efforts to deliver justice in the newly-founded United States of America, a new king had been crowned – George Washington. The Infamy will cover the beginning of his journey to dethrone this new king.[5] Each episode is due to cost $9.99 or 800 Microsoft points as a separate download, or they are free for those who have already purchased the Season Pass.
Official synopsis
Edit
Welcome to Assassin's Creed III's Tyranny of King Washington - a 3-part DLC series exploring an alternate reality in which George Washington goes mad with unlimited power, foregoing Presidency to rule as tyrannical King. In this alternate world, Connor is and remains Ratonhnhaké:ton. Having never become an Assassin, he must endure new trials, acquiring the skills he'll need to take down a possessed Washington and win freedom for his land once and for all. - Ubisoft.[6]
The Infamy
Edit
The episode took place a few months after the events of Assassin's Creed III, after the British were defeated and the Colonies were granted independence.
The episode began with Ratonhnhaké:ton asleep near a riverbank in the Frontier, wearing an animal spirit outfit. Ratonhnhaké:ton was awoken by his mother, Kaniehtí:io, who alerted him to a threat in the forest. He followed her, questioning why she was alive and what has happened. They came upon a Bluecoat patrol attacking the villagers. After dispatching the Bluecoats, a woman warned Kaniehtí:io that King George was looking for her. Kaniehtí:io led Ratonhnhaké:ton to the top of the hill, while he questioned the surroundings, and why the woman referred to George Washington as "King."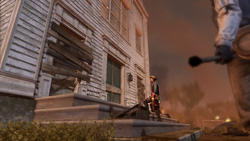 As they reached the top of the hill, they witnessed a group of Bluecoats forcing the Concord townspeople into the church and barricading the door. The Bluecoat leader demanded that the people inform him of the location of Kaniehtí:io. As they insisted that they did not know her location, the Bluecoats set fire to the church. Ratonhnhaké:ton and his mother quickly ambushed Washington's men, and liberated the townspeople, only for a cannonball blast to kill the group before they could escape.
Later, Ratonhnhaké:ton and Kaniehtí:io returned to Kanatahséton, where they met another Bluecoat attack. King Washington, accompanied by Benedict Arnold and Israel Putnam, killed Ratonhnhaké:ton's mother with a scepter containing an Apple of Eden. Ratonhnhaké:ton fought Washington, only to be defeated by the Apple's power, and was later shot and stabbed with a musket by Washington. Afterwards, he slipped into a state of unconsciousness.
When Ratonhnhaké:ton awoke in a cave, five months had passed and the Clan Mother told him what happened. She noted that he wasn't surprised about the news of his mother's death, saying that he took her murder very well. Ratonhnhaké:ton was then tasked by Oiá:ner to climb the Red Willow, pick its virgin branches, and drink the willow tea. He heeded her instruction, and visited the Sky World, where he encountered his animal spirit, which gave him the power to become invisible at will, as well as summon a group of wolves to ambush his enemies. Shortly thereafter, he was requested by one of his fellow tribesmen, Kahionhaténion, to assist in finding and rescuing his brother, Teiowí:sonte. The two tracked down a group of Bluecoats, and discovered that Teiowí:sonte was to be executed along with some of his fellow tribesmen. Once they have been rescued, Ratonhnhaké:ton's returned to Oiá:ner for further instructions.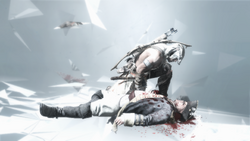 When he returned to their hideout, he discovered all of the villagers had been killed, and a dying Oiá:ner. With her dying breath, she told him to kill Washington, as well as Israel Putnam and Benedict Arnold, finishing what his mother started. Ratonhnhaké:ton tracked down Putnam to the encampment in Valley Forge, and tailed him to one of the Forts in the frontier, where Benedict Arnold was stationed. Ratonhnhaké:ton made his way inside the fort and assassinated Arnold. Before he died, Arnold told him to find Benjamin Franklin in Boston and free him. While Ratonhnhaké:ton was confused by Arnold's words, Putnam approached from behind, and knocked Ratonhnhaké:ton out with his pistol. When he awoke, Ratonhnhaké:ton found himself captured and bound in a slave cart heading for Boston. Putnam revealed his intentions of taking the command of Boston from Franklin.
The Betrayal
Edit
Ratonhnhaké:ton awoke in a cell, and was soon approached by Washington, Putnam and Franklin. Washington was greatly surprised to see the man whom he had shot point blank to be alive. Putnam offered Ratonhnhaké:ton as a gift, much to the King's delight and Franklin's dismay. Franklin attempted to shift the attention to one of the rebels that he had captured, but Washington was not interested. He ordered both prisoners to be executed, along with several citizens taken at random. Franklin objected to the idea, but backed down once Washington called him out on his doubts. Afterwards, the King told Putnam that if he can deal with the rebels in Boston, Washington would grant the command of the city to him, on account of Franklin losing his conviction.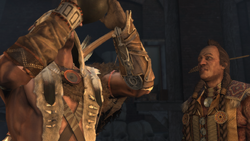 After Washington left, Ratonhnhaké:ton used his powers to trick the guards into opening his cell. After escaping and locking the guards inside, he found that the rebel whom Franklin mentioned was Kanen'tó:kon. After freeing his friend, Ratonhnhaké:ton went into an adjacent warehouse to search of his equipment. Kanen'tó:kon went with him, and found a vial which contained the tea made from the leaves of the Red Willow, and argued with Ratonhnhaké:ton about the benefits of drinking it. Seeing no other option, Ratonhnhaké:ton opted to drink the tea instead of Kanen'tó:kon, which caused him to go on a Sky World Journey once more.
After drinking the tea, Ratonhnhaké:ton was transported to the Sky World again. There, he met another spirit animal, the eagle. Ratonhnhaké:ton saw some bobcats trying to harm the eagle's nest and helped to defend it. After fending off the bobcat attack, the eagle granted him the power of Eagle Flight.
Ratonhnhaké:ton woke up next to Kanen'tó:kon in the warehouse. Kanen'tó:kon told him that the Bluecoats had found them and sounded the alarm. Ratonhnhaké:ton used his new power to leave the room, and dispatched the Bluecoats outside. Benjamin Franklin entered the warehouse with his men, who began searching for Ratonhnhaké:ton and Kanen'tó:kon, while Franklin left. After eliminating the opposition and leaving the warehouse, the pair caught up to Franklin, who sent more of his men to stall them while he tried to escape. Ratonhnhaké:ton gave chase and eventually caught up with Franklin, while Kanen'tó:kon stayed behind to fend off the Bluecoats.
Franklin seemed confused and questioned Ratonhnhaké:ton's words. The two were interrupted with a sudden appearance of Washington, who used the Apple to attack Ratonhnhaké:ton.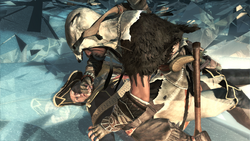 Ratonhnhaké:ton avoided Washington's attacks, and used his new-found abilities to fight him. Washington used the Apple to collapse the ground beneath Ratonhnhaké:ton, who used Eagle Flight to leap between appearing platforms to escape. As he did this, enormous phantoms of Washington and Kaniehtí:io began to torment him. When Ratonhnhaké:ton landed on the final platform, it collapsed and caused him to fall into an abyss.
Ratonhnhaké:ton awoke in an alleyway, far from where he caught up to Franklin. He was soon found by Kanen'tó:kon who offered to bring him to Samuel Adams, the leader of the rebels in Boston.
The Redemption
Edit
New abilities
Edit
To combat George Washington, Ratonhnhaké:ton will need to master several new abilities:
The Tyranny of King Washington was originally announced under the title of The Madness of King George.[8] This seems to be a reference to the film of the same name, an adaptation of the play The Madness of George III, which chronicles the declining mental health of George William Frederick, better known as King George III, ruler of Great Britain from 1760 to 1820. It has not been officially stated why the name was changed, though it is possible that this was simply done to make the downloadable content's story more distinct from the otherwise unrelated film.
In an exclusive interview with Creative Director Marc-Alexis Cote, he stated that The Tyranny of King Washington, as a whole, encompassed an extra 7 hours of gameplay.
References
Edit