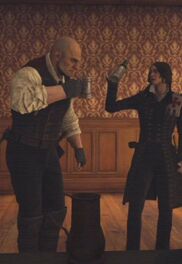 The Slaughterhouse Siblings (d. 1868) were a pair of British Templars operating in London during the Victorian era.
The nastiest brother and sister duo in London, Charlie and Big Pete were from a Templar family dating back decades. Tasked to punish those indebted to the Templar Order, they often left their victims lying gutted, their innards replaced with those of exotic animals.
In 1868, Henry Green provided the Assassins Jacob and Evie Frye with the siblings' name and location, finding them in a pub of the City of London borough – where they made Charlie kill her brother using hallucinogens before eliminating her too.
Reference